About Towne & Country Investment Services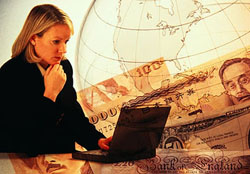 Towne & Country Investment Services is a financial and investment services firm built and based on financial planning principles.
It was established by Kim Obetts in 2005 after she gave 19 years of her career to various areas of the banking industry. She earned her CERTIFIED FINANCIAL PLANNER ™ certification that same year, and with the desire to help her clients develop their financial plans by design, not by default, she opened the doors to her own firm. Kim attributes the growth of the business to keeping her feet planted on the ground and remaining passionate about financial planning and the fundamentals that got her started in this industry.
In 2010, Kim's daughter, Kari, joined her, working part-time as an administrative assistant. By 2014, she became a full-time licensed employee and graduated from Grand Valley State University with a Bachelor of Business Administration degree and a major in finance.
Our approach to developing your financial plan is disciplined, direct, and dedicated, and we understand it is a journey.